Sustainability
Light & Space paint has been developed specifically to meet growing concerns about the enviroment. Using a ground breaking new paint technology, Lumitec, which is more reflective and less absorbent of natural or artificial light, the resulting finish maximises the impression of space - giving the room an improved ambience and appearance whilst using up to 20%† less light energy
The range is available in a selection of colours with cleaner tinting - all of which are up to twice* as reflective as normal paint so that light is distributed around a space more effectively. When applied to the walls in any space, it creates the perception of a lighter, brighter and more spacious room.
Example using natural daylight
By using Light & Space paint instead of a standard paint with a similar hue and chroma, it's possible to have up to 20%†smaller windows, yet still achieve the same levels of light within the room.
Example using artificial lighting
The illustrations show two rooms - both naturally lit. The room decorated with Light & Space paint (below right) is Absolute White on the ceiling and Moon Shimmer on the walls. The other room (below left) is decorated with conventional paint of similar hues. The Light & Space room achieves the same level of illumination, despite using 22%† less light energy. This is roughly equivalent to four rather than five 60W filament bulbs.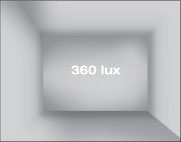 Conventional colours requiring 22% more light energy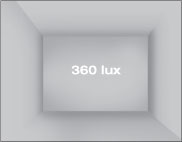 Light & Space colours
Extended maintenance cycles for enhanced sustainability
In addition to delivering significant light energy savings, Light & Space also extends maintenance cycles when used in the ultra-tough Diamond Matt formulation. 10 times tougher than vinyl silk, Light & Space Diamond Matt provides a resilient and washable matt finish with excellent durability and stain resistance.