How it works
Dulux Trade Light & Space paint has been produced using ground-breaking LumiTec technology. It uses highly reflective paint components that reflect substantially more light back into and around the room. By reducing the amount of light that painted surfaces absorb, Light & Space paint significantly increases the perception of interior space in addition to saving energy.
How it compares
In tests to compare light absorption values, walls decorated with Light & Space paint absorbed 10% of the visible light compared to a conventional emulsion from the Dulux Trade Colour Palette which absorbed 20%.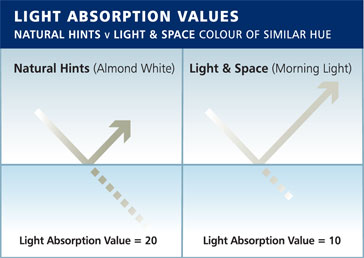 Choice of attractive finishes
Achieve the look you want and specify the durability you need. Light & Space colours are available in the following water-based finishes.
Features and benefits

† This figure is based on theoretical calculations on pairs of bare rooms of dimensions 4 x 3 x 2.4m where the light incident on all surfaces is averaged. The rooms all have the same mid-grey floor colour (LRV 50). They have a white ceiling and a colour on the walls. In one of each pair these are from the Light & Space range. In the other they are conventional products. The Light&Space and conventional colours have similar hue (colour family) and chroma (intensity of colour). The energy savings will not always equate to 20%. They will vary depending on the contents, dimensions and floor colour of the room and will differ if lighting in particular areas needs to be controlled. The calculated figure varies from 14% to 28% depending on the wall colour chosen. The actual light energy savings achieved in practice may differ from the calculations.