Using the colour wheel
The colour wheel makes colour scheming easy
The colour wheel is based on the three primary colours - yellow, red and blue. As you go around the wheel, mixing together two primary colours make the secondary colours of orange, green and purple. These in turn can be blended together to produce all the other shades around the wheel. The Dulux Trade display unit is simply an expansion of the colour wheel.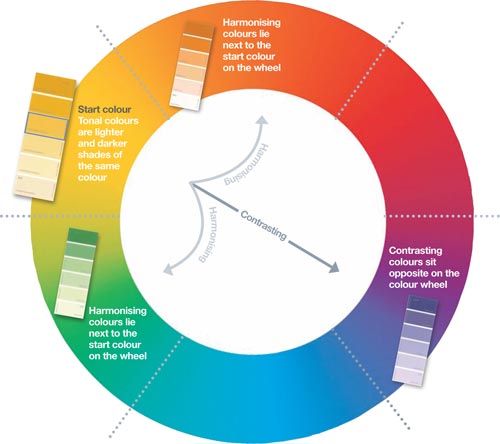 Begin with the start colour

Most colour schemes begin with a start colour, often suggested by an object in the room. Here the start colour is from a yellow cushion.

A classic ready-made colour scheme

Find the closest colour on the Dulux Trade colour unit and show the stripe card to your customer to make sure they are happy with the selection. The other colours on the card will all go with the start colour. Encourage them to select two or three of these colours for an easy readymade scheme.

For a beautiful co-ordinating palette

Simply select a colour from the family segment next to the start colour for a more dynamic scheme. In our example orange or green could be used with the yellow start colour to create a harmonising scheme.

A striking and dramatic scheme

Create drama by selecting colours that sit opposite each other on the colour wheel. Purple for example creates a striking look when combined with the start colour yellow. This is called a contrasting scheme.
Your basket
Your basket is currently empty.