Dulux Select Decorators
Dulux Trade digital colour palette
Download this smart new free plug-in and you'll instantly add every single colour in the Dulux Trade Colour palette 4 fan deck to your existing design software - that's over 2000 colours!
It's easy to use and enables you to bring your ideas to life on screen. Better still, the package helps you select co-ordinating shades and build bespoke palettes - creating the perfect colour scheme for every project.
Bring the picture closer to your vision.
System compatability
The plug-in has been developed to work with versions of popular design packages.
Hover over the icons to the right to see which versions are available.
Watch a demo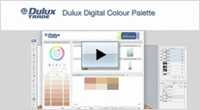 Register your free account
Forgotten your password?
Available in the following formats
Available formats

Available formats

ArchiCAD - PC
ArchiCAD - Mac

Available formats

AutoCAD 2008 - PC
AutoCAD 2009 - PC
AutoCAD 2010 - PC

Available formats

Photoshop CS2 - PC only
Photoshop CS3 - PC & Mac
Photoshop CS4 - PC & Mac

Available formats

Revit 2009 - PC
Revit 2010 - PC

Available formats

Sketchup 6 - PC
Sketchup 7 - PC